RideLondon 2023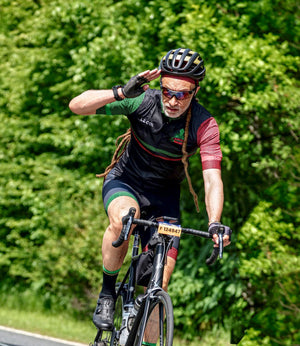 The astute amongst us may have asked if I completed RideLondon 2023? The answer is a definite YES!
Here's the story 
Let me set the tone, I didn't get to go with Toks, Enitan and Dipo on Black Unity Bike Ride #BlackUnityBikeRide to Ghana due to visa regulations, and I wasn't strong enough after being ill to get to Spain with Adisa. RideLondon 2023 would be my challenge. 
The night before the ride
I was doubting myself. I didn't do enough training. My ankle had a weird thing going on, and my shoulder was strapped-up. I had all the reasons to pull out.
Then in my hotel room, I wondered, yes, all this is true, but how much of this is nerves; my mind playing tricks on me? I realised, sitting with my excuses, that the ride had started. Of course, I'm doing RideLondon, all 100 miles of it.

Parliament Square
The day of the ride 
A group of BUBR riders arranged to meet at the Nelson Mandela statue at Parliament Square. The plan was to ride together. I turned up at 6:55am after staying at Premier Inn.
It was great to see Dipo already there. Dipo, aka Metronome, must be among the most reliable and solid Brothers I know. We talked and dodged the shadow from Big Ben that was interrupting the warmth from the sun. In the end, Everol and Mona arrived, and about 10 of us made the meet-up. We took photos and posted them in various w/app groups, especially for those who couldn't make this ride and for loved ones. We made our way through the crowds of cyclists, and then the drama started.
Mayo, Screechy 
The stewards split us up according to our registration details. It just so happened that I was in the orange channel. I was there with Mona and a few others. Then Mayo and one of her Sistrins turned up… Mayo was going in the opposite direction to the organised flow. She wasn't in the right line. Adisa and Dipo, two of my team, were also filtered into different lines. Our team were all over the place. It was messy. 

Rashida and Mona
Mayo, who I nicknamed Screechy, found a way to jump into a quicker line, but we were held in these lines for ages - all leaving at different times. So Team ORIGIN agreed to meet at the first pitstop to regroup.
You could feel the excitement growing the closer you got to the start, then loads of clicks as riders got on their bikes. It was my turn. I hit start on my watch and on the RideLondon app. I was off. RideLondon had officially started.

Rashida, the Hill Eater
I set off with Rashida, who went on the BUBR Africa trip, and Mona. I didn't realise that Rashida was the same woman who fasted on that trip and performed so brilliantly. I very quickly gained massive respect for her riding ability and followed her lead. I nicknamed her Hill Eater.  
Stupidly, we missed the first pitstop at Epping (25 miles) and only realised well past the stop. We cracked-on regardless and came off at the next stop. So much for the plan. Riding with Rashida at the start helped me so much as she set the pace. I had to catch-up with her periodically. Mona was there too, moving at her own pace, and would join us. At the pitstop, I grabbed a sandwich and said to Rashida, "I think I've set off too fast". I have to salute her 100%. She listened but I sensed that Rashida was actually waiting on me. It was time to go. 

Dipo, Metronome
A few miles later, we heard the Vibe Station at Woodford Castle. They were thumping-out music and cheering people on. I was so pleased to see them. These were our very own cheerleaders. I had to stop. I asked the Vibe Station team if they had seen Adisa or Dipo? Apparently, Adisa had passed some time before. He didn't stop. I thought, no catching him now. They hadn't seen Dipo yet. 
The morning chill had passed, and it was getting warmer. I removed my outer jersey and leg warmers and threw them at Billy at Vibes Station. He pinned my ride number to the back of my inner BUBR shirt. Billy said, "I'll post them back to you". What a SoulJah! My equivalent to a Formula One pitstop. We were there for about 10 minutes, then rejoined the ride that was about to hot-up. 
Rashida, Mona and I set-off, and then, like, from nowhere, Dipo flew past. I wondered, where the hell is that Brother going at that mad speed? Surely he can't sustain that, or so I thought. I discovered after that it took Dipo 15mins less than me to get to the first pitstop. He was moving. An important detail that I'll come back to later in the piece. I couldn't resist increasing the effort to catch him. Rashida had no issue keeping-up. The team was reforming. 
 
Adisa, Captain Africa
We stopped at a pitstop about 50 miles in and found Adisa looking as fresh as a daisy. We filled water bottles, took toilet breaks, grabbed bananas and bars, talked some nonsense, and then we were off again. The BUBR group had gotten even larger, and about 9 rode together for a while. I remember thinking, this is exactly what I love about cycling. Moving through the landscape as a team, enjoying the sights and pushing my limits. It's a physical, mental and spiritual all-in-one hit that isn't easy to describe.

Then, Adisa had to pull-off the road. I stayed with him. That's what we do because anything could have happened. The group went on without us. He dealt with what he needed to do, and we rejoined the ride. Adisa then put his foot down and went off at speed. I couldn't stay with. I had to let him go. I was now at the very back of our peloton, the shoulder was playing-up, and I felt like I had been dropped. 
 
I went to my Zone 4 (threshold) and decided to stay there. It's my favourite Zone. I said, "P, ride your own race". To go any faster would be silly. I used that time to think and remember, drawing on martial arts training to get through. It was time to dig deep. It took about half an hour to catch-up to everyone, but I had no idea at what physical cost. Strangely enough, I was still feeling generally 'ok', well, … ok-ish! 
The ride came to a stop on two occasions which helped. I realised that one of these was an accident. After, I heard that Stephen, one of BUBR's biggest supporters, was in a pile-up, and was taken to hospital. If you read this, Stephen, get well, Man. We'll be here when you're well and ready. Hopefully by the time of BUBR's main annual event in August. 
That's the first half of the ride. I would experience even greater tests in the second half.
 
50 miles and counting
We left the halfway point at about 50 miles, and Adisa does exactly what Adisa does: move to the front like a panther. I told myself I needed a strategy. He had his 'in-the-zone' face-on. That time with myself at the back was really helpful. I thought, stay as close as I can to Adisa's back wheel and sit in the air pocket behind him, for him to take the wind. In other words, get in that hole and hang-on for dear life. That was my plan anyway. What I didn't know was how hard is he going to push it. 
I checked my watch at the next pitstop, and it read 17.3 mph for the last segment. These are fast numbers for me. If I got 17 mph for 10 miles, I would be happy, let alone straight after 50 miles. I shared this with Dipo at the ¾ point, and we both nodded with approval.  

Adisa's ability is ridiculous. The man is like a horse. He's our Captain and has taught me so much. Compared to the rest of our group, he could dust us off anytime if he wanted to. Adisa knew I was behind him, and I'm sure had me in mind when setting the pace. I felt like I was being carried a couple of times, and at others, I thought, nah, I'm moving.
The pace quickened, and Adisa may have thought the rest of the group was with us, but the gap kept growing. I knew the speed had got faster because Adisa would hit any decline hard to benefit from the momentum. It's hard to stay with him when he does this. With every big effort, inevitably, the gap grew between us and our other teammates. 
Occasionally I was in front, and Adisa would pass me on the up of the hill and then move back to lead. A gap would then appear between us. I didn't have the same strength to maintain the pace, but worked hard to get back in that air pocket.  

We continued with this rhythm, a development on my race strategy, for the rest of the ride.
Adisa looked relaxed and casual, but I couldn't work any harder. There was a moment when he took a body camera from his chest and started recording. He spoke into it like a TV Presenter and then pointed it at me for a few words. I'm still trying to figure out how I got those words out, but this demonstrates the difference I'm talking about. I'm all totally max'ed out, and the horse was making a movie. Know the levels; that's all I'm saying.
We didn't see any of our group from about 85 miles into the ride. Adisa asked if we should wait for everyone, but I couldn't see how we could team up to go over the line together, and I was mindful of my time. We continued. On two occasions, I said out loud, "come-on", "get up", forcing myself to stay with my Captain. Everything was hurting by now. My shoulder was aching, the pain in my neck needed stretching, and also my lower back, but the good thing was ...I still had legs.
It was time to draw on everything, like holding knuckle press-up position on concrete, I silently repeated "stay focused on the candle".   
I was in that head space for the rest of the ride. At one point, Adisa asked me if I knew where I was, but I guessed wrong. He reminded me of a hill coming up that we know very well, and then I saw it, and my heart sank. But riding is truly fascinating. My body must have been on some kind of automatic. The hill was no problem. I wondered how's that and thought pushing against boundaries is all about magic. Adisa asked if we should stop at the top for a few minutes. I declined. He definitely didn't need it, and I could sense the end was near. I guessed 10 miles to go.
To cut a long story short, that last segment was gruelling, but the pain in my body by then was just a fact of life. We had about 90 miles behind us and just had to keep going, which is exactly what we did.

Adisa passed the finish line first and I came in just behind him. It was only right that Captain Africa crossed the line first. 
We got off our bikes and walked. Someone put medals around our necks. Three Brothers behind the barriers joked about food, something about jollof rice. We laughed. Adisa and I reflected on the ride. I wanted somewhere to sit, but I knew I wouldn't be getting back up if I did, not easily anyway. We congratulated each other and spoke about the learning and the growth since 11 exhausting laps around Stratford's Velodrome about four years ago when we started this journey with Team ORIGIN. 

Personal performance
The stats on my watch showed a race of two halves. A ride with 3.5 hours in Zone 4 (my threshold). Maximum effort only goes up to 5 (5 is for sprinting). When I looked at the effort scale, it showed 4.9 out of 5 for the first half and 5 out of 5 for the second. These numbers are crazy. Both halves of the ride saw personal bests for me compared to last year or anything I have done since. The second 50 miles shows an average of 16.8 mph after 50 miles in the bank. That's a real improvement on last year. I can't explain how pleased I am, especially when I factor in stopping at Vibes Station, the two accidents on the road, the stop with Adisa and that I was carrying injuries. 
Twist in the tale...
I got home, had some food and tried to chill, and literally, as I sat down, I got cramp in both legs - front and back. I just had to sit and wait for it to pass. With nothing to do but sit still, I went to the official RideLondon app to see how my teammates got on. The way you do. I completed RideLondon in 6hrs, 45 mins. I smiled to myself. 

Then, but wait..., remember that Dipo fellow, the Metronome, who flew past me earlier in the ride? He finished in 6hrs, 21mins. All that work he put in at the start and not stopping at Vibe Station paid-off for him. What a Champion! That right there is what I'm talking about, just like in life. We have the fast starters, the solid ones, the maintainers, the determined and those in another league. On this one, Dipo just quietly went about business, as he does, no fuss, and got the job done. I salute my Bredrin! 
Sitting back with all this now, it's clear that it doesn't really matter where you finish with this ride. It's more about what it tells you about yourself and what you learn about others. In many ways, it confirms what you know is possible, but knowing is not the same as living it. If I take anything away it's to live your life to the max. Peace out!    
 
BTW... I'm not doing that again. Famous last words 😁